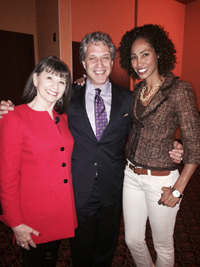 Gloria Feldt, co-founder and CEO, Take the Lead; Gordon & Rees Phoenix partner Leon Silver; and Sage Steele, ESPN host and analyst.
On Nov. 11, Gordon & Rees sponsored the Take the Lead event "Play Hockey Like a Girl," at the Renaissance Hotel at Westgate in Glendale, AZ. The panel discussion examined career opportunities for women in sports and how women can benefit from participation in sports to develop leadership skills. The discussion was followed by a reception and NHL Hockey game – Arizona Coyotes v. Dallas Stars.
Panelists included Sierra Blaire Coyle, professional rock climber, U.S. Bouldering Team; Nona Lee, senior vice president and general counsel, Arizona Diamondbacks; Sage Steele, host, ESPN NBA Countdown; Debbie Waitkus, president and founder, Golf for Cause LLC; and special guest Stefanie Francis, co-founder and managing director, Navigate Research.
Gordon & Rees Phoenix partner Leon Silver serves on the board of directors for Take the Lead, whose mission is to prepare, develop, inspire and propel women to take their fair and equal share of leadership positions across all sectors by 2025.
To learn more about Take the Lead, please click here.
Gordon & Rees was founded in San Francisco in 1974 and has become a national litigation and business transactions firm with more than 575 lawyers in 33 offices throughout the United States.